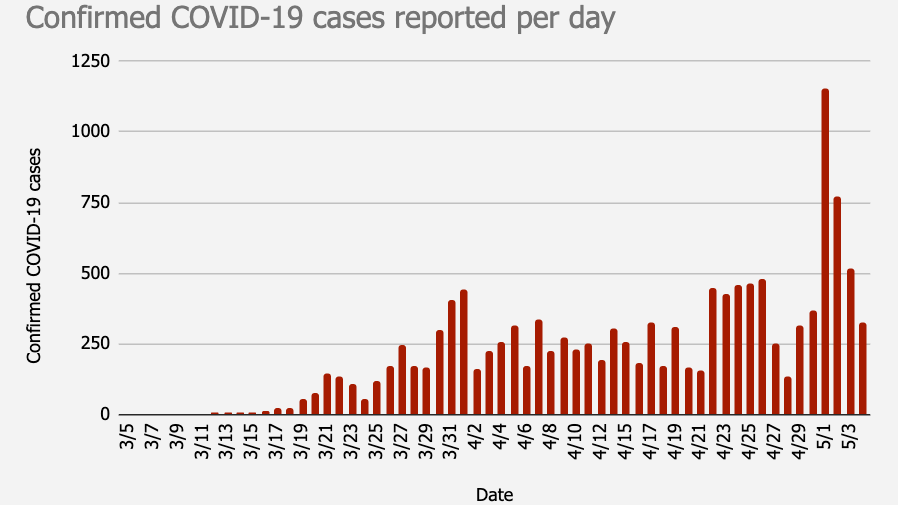 COVID-19 Update: Clusters Lead to Daily Increase in Cases |
Also: State banks process more than 40,000 loans in the second round of the PPP
The Tennessee Department of Health has confirmed 13,502 cases of COVID-19 statewide, 325 more cases than Sunday afternoon.
More than 6,800 tests have been processed and reported since Sunday, bringing the state's total to 211,443 people tested. Statewide, 1,143 people were hospitalized and 219 people died. These figures are respectively up eight and nine since Sunday evening.
Over the weekend, the state reported 1,286 new cases of COVID-19, a record daily increases in part attributed to isolated outbreaks and identified clusters. On Friday, the state announced a Outbreak of 1,200 cases at Trousdale Turner Correctional Center– the fourth cluster identified to date in the country, according to analysisby the New York Times. The statewide hospitalization and death rate increased by 22 and 6 over the weekend, respectively.
The National Guard and Department of Health tested more than 5,000 more people this weekend thanks to the state's expanded testing initiative, bringing the overall total to more than 23,000 Tennessee residents tested out of 67 drive-thru sites over the past three weekends.
"Testing remains one of the most important tools for gaining more insight in our fight against COVID-19, and the 23,000 tests we've performed over the past three weekends have provided incredibly valuable data." said Governor Bill Lee. "We are grateful to the thousands of people who came for a test this weekend and we continue to remind Tennesseans: when in doubt, take a test."
Lee will stop holding daily COVID-19 related briefings this week and will only provide updates on Tuesday and Thursday. The reduction in public availability comes at a time when Lee's administration is implementing an aggressive strategy to revive the economy without causing an increase in the spread of the virus.
Metro Nashville reported 165 new cases of COVID-19 on Monday, bringing the overall total to 3,291 confirmed cases with 27 deaths. The metropolitan government no longer communicates daily hospitalization data.
Over the weekend, health officials confirmed 359 new cases in Nashville, some linked to isolated clusters within various shelters for the homelessacross the county.
The three Metro assessment centers are now open five days a week, Monday through Friday, and health officials are developing a mobile testing unit and contextual testing sites to increase access to testing as the county considers to reopen certain non-essential businesses. The opening of the centers was delayed on Monday due to widespread power outagesand weather damage. Coronavirus task force chairman Alex Jahangir said on Monday that staff members were working to get them back online as soon as possible. So far, more than 28,600 city residents have been tested.
The city continues its response to the shelter cluster
Nashville health officials have now identified more than 100 positive cases of COVID-19 among residents of two homeless shelters.
Positive cases, most of whom were staying at the Nashville Rescue Mission, have been moved to a makeshift installationat the Nashville Fairgrounds. At the fairgrounds, residents are divided between buildings for the good and the sick.
Mass testing at the fairgrounds and the rescue mission in recent days resulted in another spike in new cases over the weekend. Metro coronavirus task force chairman Alex Jahangir said the city was not considering moving people staying at the fairgrounds to hotels.
State banks process over 40,000 loans in second round of PPP
Banks in Tennessee last week processed 40,971 loan applications under the second phase of the federal government's paycheck protection program. Lenders statewide have received approvals totaling just over $ 2.4 billion.
At an average of $ 58,778 per loan, these totals reflect the much stronger focus of the US Small Business Administration and the US Treasury on channeling aid to small businesses after a number of large businesses – several hundred of them listed on the stock exchange – were approved for loans in the first round of the PPP. In that first lending surge last month, which made more than $ 340 billion available to businesses nationwide, Tennessee lenders processed 34,035 loans for a total of $ 6.54 billion, or an average of $ 192,215 per loan.
Nationally, 5,432 banks approved more than 2.2 million loans last week for a total of nearly $ 176 billion, bringing the average loan to nearly $ 80,000. About $ 135 billion is still available under the PPP.